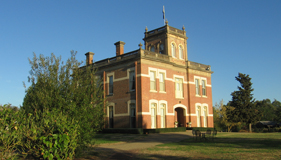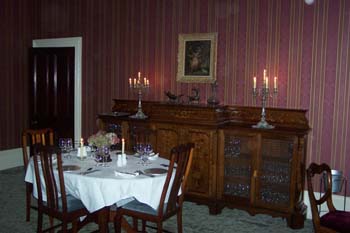 Completed in 1896, 'Highton' was built by local pioneer Francis Highett and his wife Deborah on a portion of land belonging to her father's property 'Greenvale'. Modeled on his father's home, Highton House in Geelong (which in turn was a replica of the ancestral home in Dorset, England), Highton Manor was the first two-story brick house in the region. It took nearly 20 years to complete the 80 square mansion to Francis Highett's high standards. All the bricks for the building were quarried on the property and handmade by local tradesmen. There were 15 rooms in all, with the dining and ball rooms connected by an electric bell directly to the servants quarters (state of the art for the times). As one newspaper recorded in 1896 "there is nothing mean or contracted: nothing that mars the general tone of the work, even the domestic arrangements being of the most apt description."
Indeed, the home with its imposing Italian-style facade and prominent tower was to become a landmark in the region; a statement not only about the character and aspirations of the district but also of its colourful creator. Francis Highett, one of five sons, was educated by his wealthy bachelor-uncle William (General Manager of the Union Bank and a parliamentarian) who, having no heir, decided to raise one of his brother John's sons. The sole criterion for selection was an aptitude with figures. All five nephews sat a mathematics test which Francis won. From that time on Francis lived with his uncle and received private tutoring as well as numerous trips to England. Although it was assumed by relatives that on John's death Francis would inherit his estate, he neglectfully left no will which meant that it had to be shared between a very large group of nephews and nieces.
Unfortunately for Francis, his own father – a wealthy agriculturalist – omitted him from his will, thinking he would be generously provided for in his brother's will. A poorer man than his birthright should have bestowed. Francis was thankfully endowed with many talents. He was an excellent tennis player, winning the Victorian championships consecutively in 1880 and 1881. He also had a fine tenor voice and sang duets with Nellie Mitchell (Dame Melba) as well as performing as a soloist at St Paul's Cathedral in London. The love of his life, however, was Deborah Griffiths – a decided beauty – whom he met at a Government House Ball.
They married when she was just 17 years of age (while still attending boarding school) and as earlier mentioned, lived on her father's farm where they built Highton Manor Life at Highton Manor was full. Francis and Deborah produced seven children who grew up in a home with many varied and interesting pursuits. For two hours after dinner, Francis would collect his family around the piano and there would be music. With its own tennis court and cricket green, the children of the house had plenty of activities during daylight hours to wile away the time.
In later life, Francis became a deeply religious man and an avid reader. The prominent tower atop Highton Manor that enjoys superb views of Mt Buller became his refuge where he would spend virtually all his waking hours communing with spirits. Indeed he meditated so much in the tower that he became quite reclusive, communicating only through a speaking tube to the first and second floors of the building. Needless to say the management and maintenance of the property still had to be taken care of, with the burden falling solely on Deborah. A cheerful and competent woman, Deborah assumed this responsibility without complaint. However, when she died Highton Manor became too much for Francis to manage and the property was sold. Current owners Christine and Joseph say the tower, which is now a suite, has a special ambience – a certain tranquility. No doubt this is due in part to the dreamy views of the high country looking out to Mt Buller but also a pervading calm that might be attributed in some way to the history of its previous occupants.